Interview & Text: Miwa Goroku  Photography: Hidemasa Miyake  Translation: Oilman
While spreading their business nationwide, TSUTAYA ambitiously executed a number of experimental projects. To begin with, in the year 2000, they opened their flagship store "SHIBUYA TSUTAYA" in front of Shibuya Hachiko exit intersection, which is said to be the most eye-catching location in Tokyo. After that, in the year 2003, they set up "TSUTAYA TOKYO ROPPONGI" in Roppongi, which attracted attention for being "the first BOOK & CAFE" (the store has a high reputation for its selection of art related books).
And in December of 2011, the opening of a new TSUTAYA in Daikanyama, under a new concept targeted towards seniors in their 50s and 60s, is still fresh in our minds. The store is called "DAIKANAYAMA TSUTAYA SHOTEN" and is most likely a place where many of our readers have visited before. The name of the store ventured in using its original Japanese kanji name rather than the alphabetical letters of TSUTAYA.
Its selection places weight on specialized books and its layout is completely different to that of a common bookstore (for example, they do not deal with categories such as sports or fortune-telling regardless of their high sales rate). Its stance of relying on specialized concierges to handpick the selection of books and overall presentation of a world and style as a whole, rather than focusing on the products themselves, relates to the original concept established by TSUTAYA when it was first created. "DAIKANAYAMA TSUTAYA SHOTEN" is not only the newest evolved version of the store, but also its origin. And this origin, the idea of choosing a lifestyle, is what is most desired in this current age.
After a year since its opening, the change of traffic in Daikanyama proves how the establishment of "DAIKANYAMA TSUTAYA SHOTEN" was meant to be. A place that once recorded a traffic of approximately 1500 people a day is now a hotspot that attracts up to 30,000 people on the weekend (*recorded from the Anjin passageway on the 2nd floor of building no.2).
Through interviews with 7 of the store's concierges, we would like to introduce uncommonly known facts regarding the fascination and usage of "DAIKANYAMA TSUTAYA SHOTEN". Many of the store's concierges are specialized experts selected from nationwide recruitment. The unique lineups of books along the bookshelves, which are said to impress even fanatics, are handpicked by each concierge. In addition, the concierges are not only responsible for the direction of each salesroom but also assume the role of cashier and organize the bookshelves on a daily basis. Since they blend in so well with the atmosphere, it is difficult to point them out. However, in the event of searching for a particular book, don't hesitate to ask, as they will always be there to help you.
>> Daikanyama TSUTAYA BOOKS's service
<Basic knowledge on DAIKANYAMA TSUTAYA SHOTEN you should know>
"DAIKANAYAMA TSUTAYA SHOTEN" is comprised of 3 buildings in which all the first floors constitute a bookstore separated into "6 special corners" consisting of "humanities and literature," "art," "architecture and design," "cars and bikes," "cooking," and "travel." A line of magazines are set up as if to penetrate through the center of the 3 buildings. The second floor of building no.1 is the "film" section and the 2nd floor of building no.3 is the "music" section. In between these buildings, located in building no.2, is the lounge (Anjin). Its spacious interior may make you feel lost at times, however, it is easily comprehensible to new comers as long as they aren't sidetracked from their objectives. For regulars, the layout enables easy access to books of their interest (on the other hand, to wander about without any objective is also a luxurious way to spend your time).
■Shop hours are from 7 a.m. to 2 a.m.
■Reading on the sofa is permitted if you purchase a drink at Starbucks.
■For those who wish to enjoy a more relaxing time, cafe Anjin is available on the 2nd floor of building no.2 (a good selection of back issues are also available)
■The adjacent "DAIKANYAMA T-SITE GARDEN" consists of 7 shops and spaces (IVY PLACE, DAIKANYAMA KITAMURA CAMERA STORE, DAIKANYAMA Motovelo, BORNELUND DAIKANYAMA, GREEN DOG DAIKANYAMA, MATSUKURA HEBE DAIKANYAMA, and GARDEN GALLERY)
■The architecture was designed by Klein Dytham Architects (main works include Uniqlo Ginza Store and Google Headquarters)
■The graphic for "TSUTAYA SHOTEN" was designed by Kenya Hara
■The store is constructed in a favorable geographical location (the terrain has been above ground since the Jomon period and was part of the old Tokugawa estate in the Edo period. Currently, it is a historical location that houses a number of embassies)
<Convenient knowledge on the services of DAIKANYAMA TSUTAYA SHOTEN>
■Rental service for high-quality sound headphones
■MOD service on the movie floor (service to create and sell DVDs of movies that are not distributed)
■Laser turn table on the music floor (sample LPs available. Sound can be compared with CDs)
■Cleaning service for analogue records
■Travel desk (located right next to the travel books corner. Enables the planning of personal travels)
■A large selection of ZINEs (country's largest selection)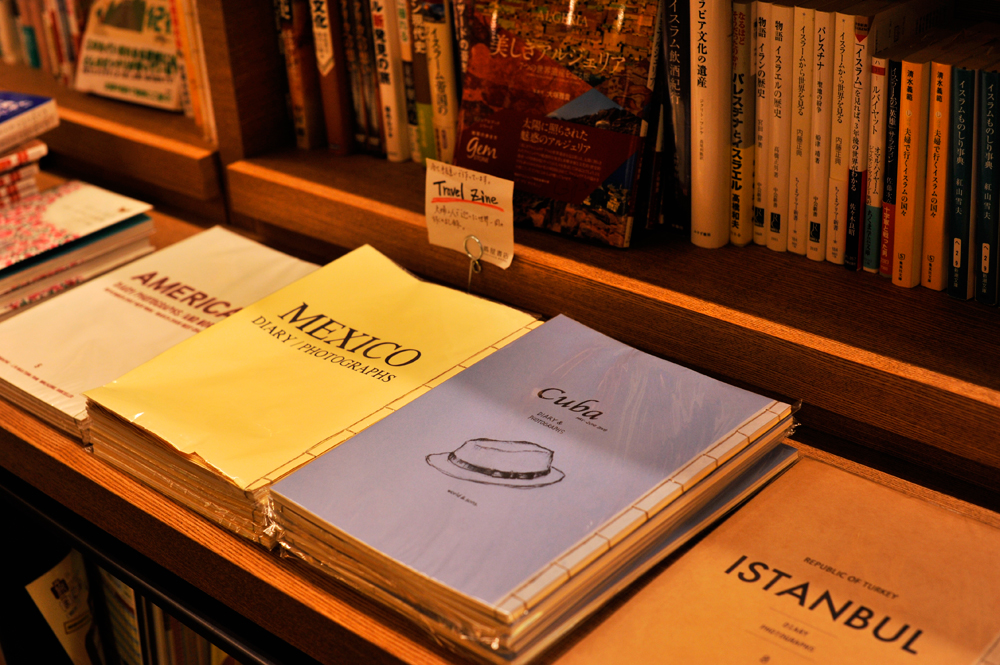 ■Art works supervised by the Art Front Gallery sold at cafe Anjin.
■Gallery space on the first floor (exhibits are changed every 2 weeks)
■Free postal returns of DVDs and CDs (returnable from any post box near your house)
■Monthly free issues of "Ehon-Tsushin" created by the concierges of the "Children's book".
■Kid's space in the movie section on the second floor of building no.1.
■Online store (products sold at DAIKANYAMA TSUTAYA SHOTEN are also available on the Internet)
URL: http://tsite.jp/daikanyama/ec/tsutaya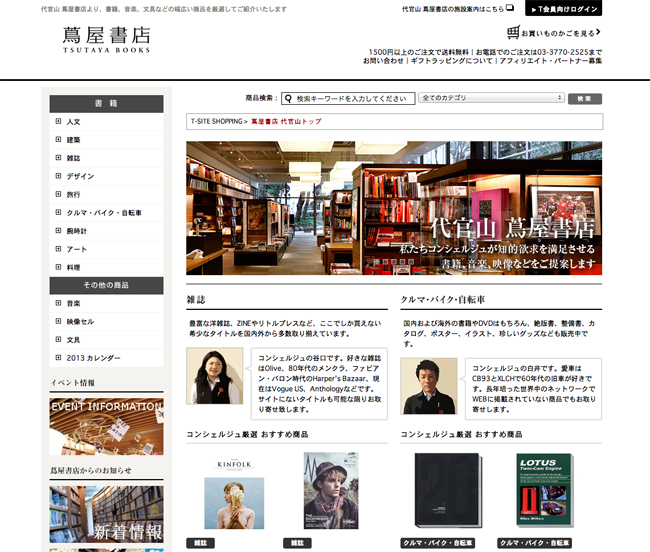 [addshop id="2470″][/addshop]
The 3-building-penetrating "Magazine Street"! Concierge Kimiyo Taniguchi
As if to represent one long street, the passageway penetrating through the center of "DAIKANYAMA TSUTAYA SHOTEN's" three buildings is the "Magazine Street." Its selection of magazines is constantly kept at 30,000, the largest selection throughout the country. Such vast collection ranges from old treasured back issues to rare and particular foreign magazines that are uncommon in Japan. The art corner that consists largely of fashion magazines is famous for being a hot spot for many creators who visit the store periodically.
Such magazine section, which acts as an "entrance" to each of the specialized corners, is collectively run by concierge Kimiyo Taniguchi. Kimiyo, who also participated in the opening of "TSUTAYA TOKYO ROPPONGI" ten years ago, has been a member of the "DAIKANYAMA TSUTAYA SHOTEN" project from the beginning. Being a veteran and born bookstore clerk, she stands out even amongst the recruited concierges.
Her specialty is foreign magazines. At her previous job, she was a foreign books buyer for a major record chain store. Recently, it appears certain needs distinctive to "DAIKANYAMA TSUTAYA SHOTEN" have notably come to attention. "Regarding genre, topics such as food, interior, and gardening. Foreign lifestyle-related magazines are rather popular. Such fields are actually my strong point so I'm pleased about this tendency. In particular, the 3 magazines 'INVENTORY,' 'Anthology,' and 'KINFOLK' are very popular. I highly recommend them. Many customers in the field of apparel and design come to 'DAIKANYAMA TSUTAYA SHOTEN' as well so fashion magazine sales are constantly high too. Out of all the foreign magazines, 'LULA' from England sells the most by far. Next in line is Mexico's "Baby Baby Baby." Unfortunately, the publication date is irregular so we can't provide the magazine on a regular basis but even so, it is a popular magazine we receive inquiries about every day."
In addition to these, it is not uncommon for magazines to become regular products from customer requests, such as "TISSUE" (an art photograph magazine with elements of eroticism) that was ordered in answer to a request from a cameraman, and the line of Korean mode magazines ("VOGUE girl KORIA," "ELLE KOREA," and "ELLE girl KORIA"). "Recently, Australian magazines are very interesting. Magazines such as the girlie "FRANKIE" and its brother edition, the "Smith Journal," sell invariably whenever they arrive. Since they seem to take the best parts of English and American magazines, I guess they match Japanese tastes. As for men's magazines, I hear Taiwan's "STREET MONSTER" sells more copies here than its domestic Eslite Bookstore (a fashionable bookstore in Taiwan)."
Kimiyo Taniguchi / Previously the foreign books buyer for the 7th floor of Tower Records Shibuya and responsible for the MD of foreign magazines at an online bookstore. Current aim is to spread the sales of Asian magazines. "I feel it has finally come this far, but I'm thinking it will be interesting to deal with products such as Indian interior magazines and Vietnamese fashion magazines." Born May 9th, 1970.
<up-and-coming magazine>
"MONKI" No.08
The "latest bestselling" fashion magazine. Its kitsch, girly, and slightly dark unique perspective is the key to its popularity. Taniguchi concierge says "the magazine uses a number of illustrations and its photographs are modern and fashionable." Incidentally, "MONKI" is a Swedish fashion brand affiliated with H&M. Its price is even cheaper than that of H&M and is enormously popular in Scandinavia. 'MONKI' has been already sold in Japan, check the magazine to learn all about the brand and its attractions!
The Overwhelming Film History Corner! Concierge Takashi Kamimura
The first thing that comes to mind when hearing "TSUTAYA" is DVD rentals. And indeed, there is a DVD corner here at "Daikanyama TSUTAYA SHOTEN" as well. Upon rising the elevator of the Humanities and Literature Section of Building No.1 to the second floor, you will be greeted by Cinema Concierge Takashi Kamimura. "My favorite movie? A lot of people ask me the same question but I can't make up my mind. If I was asked to give a 100 favorite movies, I could answer straight away." says Takashi with a grin. He is an unparalleled movie fan.
Of course, the fact that he is a "movie lover" doesn't give him the ability to orchestrate the overwhelming lineup of movies on this floor. He completed a course in film direction at an American university and came back to Japan on the occasion of the Lehman Shock. After that, he worked as a producer for a TV production company for a while, but "returned" to a place where he can indulge himself in movies again one year ago. "After the Great East Japan Earthquake, I started thinking about what I really like and want to do. In my case, it was movies. At the same time, I happened to come across TSUTAYA SHOTEN's recruitment ad for concierges and thought, this is it!"
Amongst the selection of movies filling the shelves, a particular must-see section is Film History. Nouvelle Vague, Italian Neorealismo, The New German Cinema, and even a good lineup of Japan's Showa movie history. The Film History Corner, neatly categorized by country and genre, is not only fun to look at. By thoroughly tracing the shelves, you may bump into a rare, forgotten masterpiece.
Last year, Takashi attracted public attention by doing a feature on Masahiro Makino, a film director who built the golden age of Japanese movies, and son of Shozo Makino, the "Father of Japanese Cinematography". "I especially received a lot of feedback from elderly movie fans. Things really heated up. They praised me by saying 'you really know a lot for your age." Recently, there are times when I receive DVDs rather than the other way round. If I mention a movie I haven't seen yet, they go through the trouble of bringing it for me." The exchanges between salesclerks and customers you will encounter on this floor are more so animated conversations between movie fans, creating a scene similar to that of a salon. "I want to continue creating a space that would attract many movie fans." Takashi is planning a number of talk shows with film directors this year too.
Takashi Kamimura / Takashi has a record of watching approximately 400 movies in one year (however, he spent the entire summer surfing so in reality, it calculates to 400 movies in 10 months). He is originally a fan of Russian and Iranian movies. If it wasn't for the Chechen War, he was even considering to study at a film school in Russia. Born September 23rd, 1978.
<Recommended DVD>
"Dans la ville de Sylvia" (director and screenplay: José Luis Guerin)
Guerin's 6th directed film made the theaters in Japan for the first time. "The other day, director Guerin came to our store. I was very surprised at his acquired taste in movies, looking at films by Jiro Ozuyasu and Sadao Yamanaka. I ended up guiding him to the Nikkatsu Romantic Porn corner. I'm looking forward to his continued activities as a director."
A Producer Trusted by Jazz Fans around the World! Concierge Ryoko Oikawa
Do not underestimate TSUTAYA's rental music section. With a selection that includes banned records coveted by fanatics, TSUTAYA SHOTEN's voluminous number of titles is probably unmatched by any record shop in the World. This music section, run by Concierge Ryoko Oikawa, is the number one amusement for jazz fans. Ryoko has a unique background of producing CDs and live events in the male dominated Jazz World.
Masters such as Ron Carter, Eddie Gomez, and Lars Jansson even place their faith in Ryoko. "The job of a jazz promoter is similar to that of an election campaign. For 365 days a year, we carry around flyers for live events and sell the tickets. The venues are small and we sometimes need to set up tours to pay for them. I tried to quit many times, telling myself this would be my last event, but whenever I thought that, the supposedly "last" live was always amazing and I couldn't bring myself to quit." Basing her activities at her home town in Sendai, Ryoko promoted domestic and foreign musicians, created music CDs in New York, and even became owner of a live house herself. However, influenced by the Great East Japan Earthquake, she currently works on the music floor of "Daikanyama TSUTAYA SHOTEN."
Amongst the many types of music, Jazz is considered a genre relatively difficult to understand. However, Ryoko claims otherwise. "Whenever I listen to J-pop and come across music I like, it always has an essence of jazz in it. There's a jazz musician by the name of Herbie Hancock (a jazz pianist from Chicago active since the 1960s) who was always a step ahead of the existing jazz scene. When he was asked about the difficulty in understanding jazz, he answered "time would tell". Recently, I'm reminded of his words quite often. I feel we are precisely closing in on that "time". The music people listen to in Japan has changed ever since the Great East Japan Earthquake. It's no longer healing or easy listening music that was popular for some period of time. I feel it's heading towards more solid music. Maybe, in a way, people are looking for something more genuine. I think everyone, let alone the age, has caught up with jazz." In reality, you will encounter many young customers on this floor who are interested in listening to jazz. "There are no such thing as rookies or veterans when it comes to good jazz. For beginners, I recommend solid jazz music from my own selection that's easy to listen to. Just as there's a story to every jazz performance, I hope I can create a story for each of my customers."
Ryoko Oikawa / After graduating university, Ryoko found a job at a company in Roppongi. Since there were many live houses in the area, she spent her salary on going straight to live performances every day after work. A few years later, she quit her job as an office worker and entered the promotion business, handling a part time job on the side. After ten years of working as a promoter, Ryoko went to NY, the home of Jazz, for the first time. Upon returning, she based herself in Sendai and expanded her business as a CD and live producer, eventually becoming a known figure to jazz musicians in and out of Japan. Born January 14th, 1957.
<Recommended Choice>
"Transport" Tim Lapthorn
An album by a young English pianist, Tim Lapthorn, a rarity in the Jazz World. His 3rd album was released in Japan ahead of the World in March last year, and is available at "Daikanyama TSUTAYA SHOTEN." Oikawa Concierge used her personal connections to acquire this album, which won't be found in any ordinary CD store. "It's been a long time since I found a CD that I want to listen to every song from beginning to end. The melody is very simple and familiar, but has a strong backbone. His use of strings is truly amazing. I'm always delighted to meet such musicians who bear a new sense of Jazz."
The Legendary Salesclerk, Still in Business! Concierge Michiko Mamuro
In normal circumstances, a salesclerk quitting a bookstore is a topic that will never make the headlines. However, in the case of Michiko Mamuro, it's a completely different story. An article was even written about it in a famous magazine, drawing the attention of the entire industry. Undisturbed by such commotion, Michiko Mamuro herself says "Ten days after my resignation, I had made my decision to work at "Daikanyama TSUTAYA SHOTEN." You can see how Michiko is no ordinary Literature Concierge.
When asked the reason for her transfer to "Daikanyama TSUTAYA SHOTEN," she cheerfully replied "I sincerely think there is a God of Books. Many writers and editors I know send me galleys and complimentary copies of books so I was thinking of taking time to write book reviews from home. However, as I was reading through the books, I noticed I was thinking to myself 'how should I sell this book'. The moment I realized I wanted to work as a salesclerk for a bookstore, the recruitment ad was out. Plus, the workplace was within 5 minutes walk of my house. I truly believe I was led here. I told you so. There is a God of Books."
Mamuro Concierge permanently resides on the first floor of Building No.1, the Literature Corner. This section deals with books such as paperbacks, creative writing, and new releases. Next to the register, is a pile of magazines in which Michiko was interviewed for her book reviews, and recommended fresh publications that are updated on a daily basis. And naturally, each book has a POP advertisement written in Mamuro Concierge's hand. The moment Michiko begins an introduction with the words, "for example this book, 'Nijyu-Seikatsu (A Double Life)' (by Mariko Koike)…," the book practically sells out. Next to the new releases, are books with wraparound bands made by Michiko herself, and rare signed books that she claims "the writer happened to come to the store so I grabbed him and got him to sign a copy." Such rich lineup of books will never be found in any other bookstore, and is a scene that can be realized only by the resources of Mamuro Concierge. "I look through each book and choose one to decorate by hand. When I'm ever in doubt, I make sure to go through many processes that include the Japanese kanji for "hand". Tegami (writing letters), tedsukuri (handmade), shudan (procedure), tedate (deriving a plan), tegakari (finding a clue), and tema (spending time and effort). I feel the result of these processes affect my relationship with the customers too." Mamuro Concierge is also known for directly contacting writers to appear in events, and with the use of such network, she is currently planning a number of events here at TSUTAYA SHOTEN as well.
It is said that there are "book lovers" and "bookstore lovers". "Daikanyama TSUTAYA SHOTEN" is precisely the kind of place that inspires the latter. "If there is a way for real bookstores to compete against Internet bookstores, it is how attractive you can create the space. By approaching this by means other than data management, there are still many things you can do with the space a bookstore provides."
Michiko Mamuro / Michiko reads "1 book a day, 5 books on my day off, 60 books a month, and 720 books a year." Her favorite place is Sugekari Park. "There's a lot of greenery and I'm always pleased to see people reading books with our bookstore covers on the benches. To be able to stop by a big bookstore during a leisurely walk is something you can only experience in Daikanyama." Her hobby is to travel abroad twice a year. Born July 17th, 1960.
<Recommended Choice>
"Nokori Zenbu Vacation" Koutaro Isaka (Shueisha)
A new release by Koutaro Isaka, a writer gathering attention inside and outside Japan with translated publications around Asia. "Many of Isaka's novels have a serious and dark essence to them but the fact that all the good and bad guys are weird is an appealing characteristic of his writing. Such offbeat mystery books are common abroad but unseen in Japan. You can say Isaka is the leading writer in such genre. His new release is called a "riddle story" and the conclusion is left for the readers to decide. Whether the man will return or not? Through this conclusion, Isaka is gently questioning the lives of the readers."
The Bookshelves of a First-Class Travel Writer! Concierge Takashi Morimoto
By taking a step astray from the "Magazine Street" that runs through the complex, you will find a variety of "libraries". These dimly lit spaces, surrounded by heavy wooden bookshelves, provide a coziness similar to that of resting in your own living room, as well as a mild tripping sensation. Such spaces are significant of Daikanyama TSUTAYA SHOTEN's concept, "library in the woods."
One of these spaces is the Travel Corner. A distinct lineup of books covering every aspect of the World, uncommon to that of normal bookstores, are stacked up to the ceiling. Guidebooks, which are usually the leading products, are lined across the bottom shelf, and in its place, at eye-level, are "reading materials" consisting of histories and cultures of regions around the World. "When you visit a place, if you know even a bit about the culture of that region, you will see it in a different way. Traveling abroad is about meeting different cultures. The culture shock is the interesting part," says Concierge Takashi Morimoto. He is part of "the first generation of backpackers," traveling since the 1970s even before guidebooks existed. In addition, he is also the pioneer of travel writing. For 37 years, he has contributed articles to first-class newspapers and magazines. "I had zero experience as a salesclerk. However, I have 45 years experience as a customer, and 42 years experience traveling abroad. I feel I have found the perfect job for me."
For example, in addition to modern history books on the England shelf, are a tea dictionary, a picture book on saucers, and a guide to English ghosts, arranged systematically across the shelves in a unique manner as if to tell a story. Morimoto Concierge's selection on Baltic Countries not only includes foreign and vintage books, but also a comic by Chiune Sugihara. "The most number of books I collected when I was working as a writer is 5000. I love books so whenever I go traveling, the first thing I do is look up books on the country of my destination. I don't only look for books on history and entertainment, but also novels written by its local writers. Actually, the books lined up here are ones I handpicked from the booklists I accumulated over the years. I'll say the collection is about 80% complete. I'm leaving the remaining 20% for books I have yet to meet and those I wish to include but are out of print. I'm hoping to create an even more fulfilling selection." At the center of the Travel Corner is an ongoing fair featuring particular countries and regions. With a selection of related magazines as well, the travel section provides enjoyment for anybody who stops by.
Takeshi Morimoto / Takeshi Morimoto has written 22 guidebooks up until now, and has visited 100 countries. His most memorable region is Central America. Whenever he goes traveling, he crams a paper bag with books a month before his departure, and takes time deciding which ones are worth taking. On the weekends, he likes to relax with a drink and a chat at a cheap bar in Kyodo. Born January 19th, 1949.
"If customers can tell me what they want to do, what they want to see, what they like, and their objectives, I'll be able to provide them with accurate advice. There is actually a travel counter called T-TRAVEL right next to our Travel Corner. You can research the availability of hotels straight away from there. In cooperation with the concierge of that section, I can propose even more specific and fulfilling travel plans at your wish. I would like to develop "Daikanyama TSUTAYA SHOTEN" into the sort of place where customers would go through the trouble of strolling back again after their trip to tell us about their travels."
An Full Transplant of the Legendary Lindbergh! Concierge Takao Fujii
"Until 10 years ago, there was a position for 'automobile hobbyists'. A time where a group of three men will inevitably include one automobile enthusiast. They would buy expensive cars even if they didn't have much money and do whatever it took to maintain them. The fun of driving a car that doesn't even have any air conditioning, whose sole purpose is to be driven, is even more exciting than riding a motor bike. I really want people to understand this and actually experience driving them. The fact that this is unknown is very disheartening," says Concierge Takao Fujii. He is the concierge of the Cars and Bikes Section. An area that requires the highest level of expertise by far, amongst the six specialized bookstores of "Daikanyama TSUTAYA SHOTEN". He is also the founder of "Lindbergh," a "legendary bookstore" renowned by car lovers.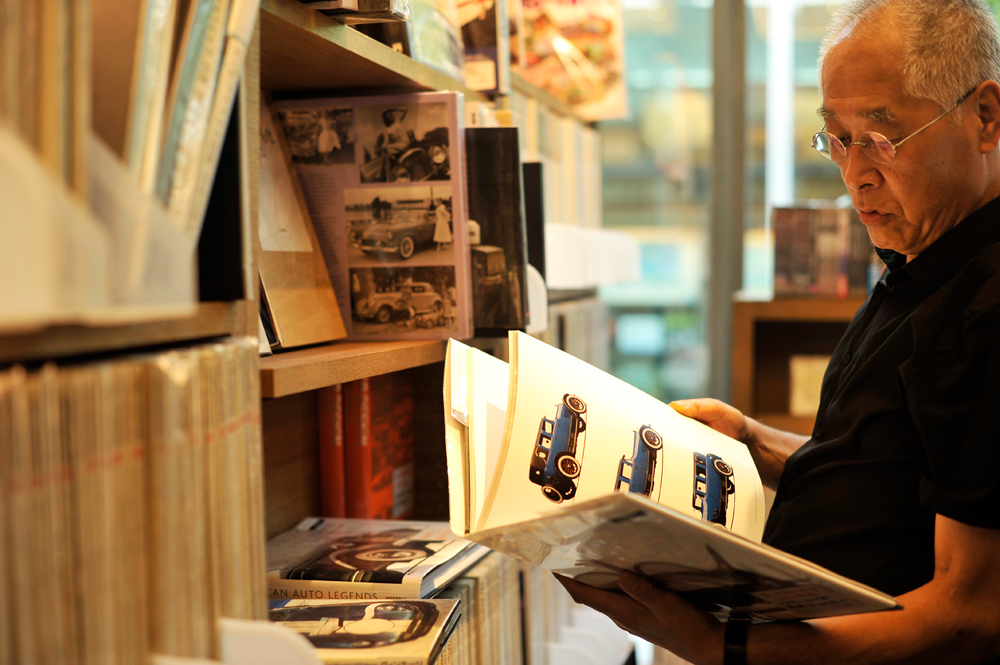 Even amongst the recruited elite concierges, Takao Fujii is an exceptional resource. Muneaki Masuda of the Culture Convenience Club, the company managing TSUTAYA, originally had his eye on "Lindbergh" and Takao's participation in the project was decided practically immediately. Hence, it can be said that the philosophy "Lindbergh" accumulated over 27 years of operation, is transplanted directly into this section. The bookshelves in the salesroom are organized in the same old "Lindbergh" style. For example, the Alfa Romeo corner offers Japanese and English books, DVDs, illustrations, and operation/maintenance manuals. The grouping of books by content rather than genre is actually an arrangement method common to the other salesrooms of "Daikanyama TSUTAYA SHOTEN". All the information you need is completed in one corner. This user-friendly lineup provides more opportunities to fanatics as well as ordinary customers.
It's sad that the younger generation is said to be losing interest in cars but that is why this section has all the more meaning. "However, some of my longstanding customers of 10 years reject coming here, saying it's 'too clean'. This place is actually really good. It's perfect. Some think it's boring because there's nothing they can complain about. At 'Lindbergh' there was a sort of atmosphere that made people hang around all of a sudden. Now it's been a year since the opening on Daikanyama, I'm in the midst of establishing our own characteristic style by means of trial and error." The heat of car and bike fanatics that once used to gather along the Kanjo-8 Line of Setagaya, is now renewed on a broader scale here at Daikanyama, generating a new resonance.
Takao Fujii / The formative experience of Takao Fujii's car life was "Washington House". Many officers of the Allied Occupation forces resided in Shibuya at the time when Concierge Fujii was born and raised. Takao says his adoration to the high-class American cars that came and went along Kouen-Street is his origin. With 28 years of history, "Lindbergh" is currently running an online shop. Born April 12th, 1946.
<Recommended book for fanatics (and beginners!)>
Michael Furman's photo book.
"I think it's obvious to anyone who does photography, but the reflections in his photographs are unordinary. However, he processes them very well. It's a very good photo book that explains how cars can be art. American cars before the 1960s are its main subject. Many publishers deal with his work. He's a photographer with a number of books I would like to recommend to fanatics."
Enhancing an Attractive Lifestyle with Stationery Goods! Concierge Yoko Shinozuka
The first scene of "Daikanyama TSUTAYA SHOTEN" that comes to sight when approaching the complex from Daikanyama Station is the first floor of Building No.3. Through the sparkling clean glass windows, you can see rows of fountain pens arranged in an orderly fashion, portraying a magical sight as if they're floating in the air. You may say this is a particularly eye-catching space, even amongst the many unique aspects of "Daikanyama TSUTAYA SHOTEN". This is partly because this salesroom deals with stationeries rather than books. In addition to pens and notebooks, an original lineup of various items for modern lifestyles are handpicked from around the World. This section bears a special attraction that makes you want to visit for the sole purpose of purchasing a particular item, rather than an afterthought of buying a book.
"To be honest, I was more worried than impressed at the beginning. Cleaning out the showcases for the fountain pens seemed such a burden and I hadn't a clue how to reach the products in the high areas." says the manager of this salesroom, Concierge Yoko Shinozuka. She is an experienced worker who's first job was at a bookstore, and has 7 years experience managing a stationery section. "You can say I have plenty experience selling stationery products at a stationery section, however, what we sell at "Daikanyama TSUTAYA SHOTEN" aren't exactly products. Here, we propose scenes and lifestyles in which our products are a part of. Even the showcase of fountain pens express a certain style. If we just wanted to sell the items, we would place them in shallow glass cases that would enable our customers to have a closer look and be easier for us to take out. In such perspective, I'm still not a professional and I am still hesitant. Every day, I ponder on how to plan an even more attractive way of living with the use of stationeries."
If you purchase a fountain pen, they offer a delightful service of engraving your name (for free). Actually, there was an order for this right before our interview and Shinozuka Concierge had to go straight back to work. Shinozuka Concierge says, "rather than creating a big craze, I want to establish a sort of place that will be loved over the years." The space of lifestyles, known as the stationery section, is maturing slowly on a daily basis, be her hands.
Yoko Shinozuka / After starting her career as a salesclerk for a bookstore (in charge of the books section and then the stationery section), Yoko Shinozuka also experienced sales at a high-class foreign tableware maker of French crystals and German crockery before entering "Daikanyama TSUTAYA SHOTEN". Her original sense of beauty she acquired over the years will no doubt be put to full use here as well.
<Featured new product>
Parker Pens: SONNET
 A "fifth generation" pen that is neither a ball-point pen nor a fountain pen, manufactured by the long-established high-class writing materials maker, Parker. A new color of this series of new technology pens has been released.
"Sonnet Pearl Pink Gold Trim" ¥24,150
A product of the "Audrey Collection" created by "S.T. Dupont" of the French Luxury House to commemorate their 140th anniversary. The ribbon on the hat Audrey Hepburn wore in "Funny Face" is engraved on the metal area of the pen.
Limited collection fountain pen ¥55,650
Kazuyoshi Minamimagoe / Senior Creative Director of BEAMS Creative Research Laboratory
Many creators and producers of the fashion industry are often spotted at Daikanyama TSUTAYA SHOTEN's magazine and photo book corners. According to them, they use Daikanyama TSUTAYA SHOTEN for research and to acquire inspirations for new projects. Here, we will introduce an interview with Kazuyoshi Minamimagoe, also known as Mago-san, from BEAMS, on his use of TSUTAYA.
– Today, we have invited Mago-san, known as the culture connoisseur of the fashion industry, to lounge Anjin on the 2nd floor of "Daikanyama TSUTAYA SHOTEN". You go to bookstores on a regular basis, right?
I'm just into subcultures, not a culture connoisseur. I wouldn't say I go to bookstores on a regular basis, but I do check them from time to time. I always feel like going to the toilet when I go to bookstores. I'm not sure whether it's because of the smell of ink or the unchanging scenery. I really don't know…on a different note, the toilets at "Daikanyama TSUTAYA SHOTEN" are amazing. They're gorgeous and fantastic. Even that alone is worthy of my high rating.
– At what sort of occasions do you come to "Daikanyama TSUTAYA SHOTEN"?
When I'm searching for inspirations for the next season. They have a lot of magazines and photo books I'm not familiar with. At times, I would just flick through a magazine and think this is it! At other times, I would decide on a theme and look for a visual that matches it.
– You certainly bump into a lot of personnel from the creative industry at this bookstore.
Yes, there are many. I often see members of the fashion industry or related creators tweeting about "Daikanyama TSUTAYA SHOTEN" on Twitter. Daikanyama itself is a very fashion oriented area.
– The flow of people has changed as well since the opening of "Daikanyama TSUTAYA SHOTEN", hasn't it?
This is the sort of place that people will go through the trouble of visiting. "Daikanyama TSUTAYA SHOTEN" bears a collection of books selected by an original sense of beauty, and are displayed in a properly choreographed environment. It provides enjoyment in visiting, seeing, and buying. Hence, it increases motivation. This is exactly what is important in our current fashion industry. Amidst the growth of e-commerce, it is necessary to create "something" characteristic of a real store. For example, if someone wishes to buy boots, they would come to the store to try them on, but won't buy it even they like it. Once they acknowledge the size, they would go home and buy it over e-commerce. I feel it is now very important to increase the motivation of customers to actually visit stores, by means such as store events and of course, the manufacturing of products.
– Do you have a corner you like in particular here?
You know they have a service for burning occult-class movies? I haven't had it done yet but I seriously contemplated it when I caught a glimpse of the service. Price wise, it's no different from purchasing a normal DVD.
– The "Revival Cinema Library". Apparently, they create such a lineup by contacting each country and acquiring permission to sell movies whose copyrights have expired in Japan.
Isn't that such a fortune. Personally, I hope they will revive Alain Delon's "Samurai". It's currently being dealt over Amazon for tens of thousands of yen. If they revive it, everyone will definitely buy it.
– How about the book corner on the first floor?
I usually look at the photo book corner. Nowadays, I'm looking for image photos of America's West Coast. In many ways, the current fashion industry is looking at the West Coast. Even Hedi Slimane opened a studio in LA to create clothes for "Saint Laurent Paris". From such high-end to casual surf wear, the West Coast is what's in at the moment. In my case, I'm trying to find photos portraying real lifestyles of the younger generation. There are only a surprisingly small amount of data around.
I also think the exhibitions (taking place on each floor) are worth checking out. The one I saw the other day was Kazuhiko Kato's personal belongings exhibition. It was really good. When he was still alive, Kato-san made suits for BEAMS as well. They were exhibited too.
– On what sort of occasions do you come to Anjin?
The last time I came was for a meeting, I think. The back issues are truly a must-see. I was overwhelmed to see "Screen" as it was my favorite in elementary school. Wait a minute. They don't have "Eiga Hiho (Movie Treasure)"? Manager, this is a must!
– Did you know specialized concierges reside in each corner of "Daikanyama TSUTAYA SHOTEN"?
Yes, it's a great service. The approach of placing concierges actually coincides with us. BEAMS also has a number of fanatics in each section. For example a denim fanatic in the casual clothes section. As I see it, the young generation are showing more interest in contexts and backgrounds. It seems clothes with such stories tend to sell more. The question is, how this product got here. It's not the mindset of the market is it? The fact they are collecting such clothes as a hobby is a really good sign.
– To exactly what sort of age group is it popular amongst?
A surprisingly young age group. The 30s in particular. And even younger from late teens to early 20s. My son is exactly 20 and he's digging for a lot of vintage clothes. It may be the influence of his parents though. I'm part of the first generation of fanatics. The same age group as Tsutomu Miyazaki.
– Are there any other areas you recommend around here?
IVYPLACE. It's very West Coast and non-Japanese. I used it for a breakfast meeting once before. That reminds me, there seems to be a developing breakfast culture recently. Even pancakes are very popular. I wonder what it is? It's a culture that has yet to reach Suginami-ku where I live.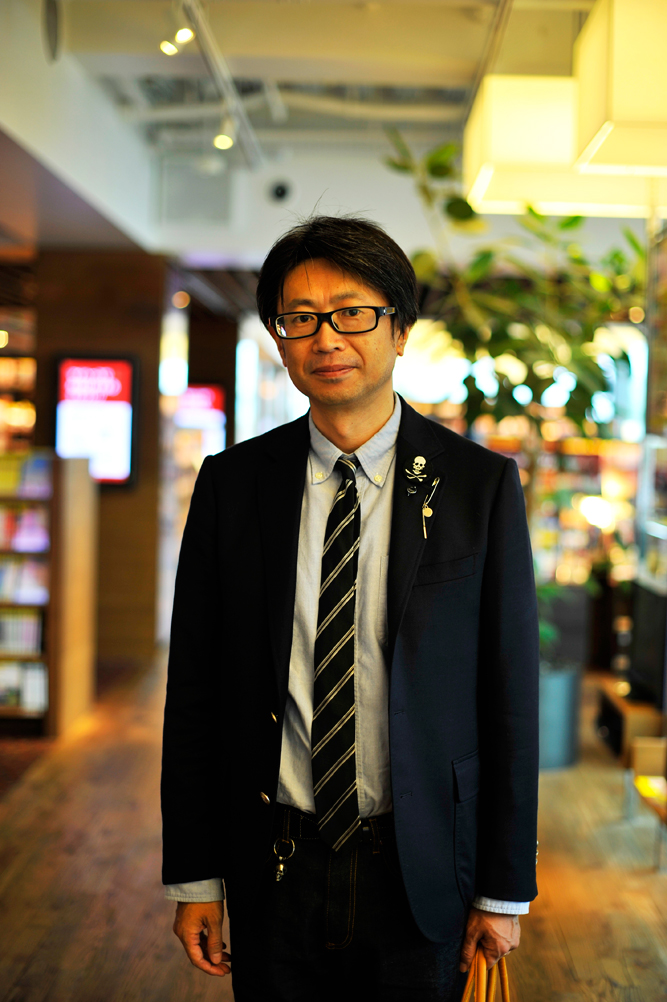 Kazuyoshi Minamimagoe / Senior Creative Director of BEAMS Creative Research Laboratory. A leading subculture connoisseur of the fashion industry. From his vast range of knowledge, he is constantly asked to take part in events and seminars in a variety of fields. Currently organizing a collaboration with "Subculture Festival" and producing BEAMS's new business "Beaming Life Store".